Good day!
RMAA takes great pleasure to reveal the Denver Gay Men's Chorus (DGMC) and the Denver Women's Chorus (DWC) upcoming concert season.
It's a big year in many ways! We are making a return to the stage and in-person performances for the first time since the pandemic, celebrating DGMC's 40th anniversary and introducing DWC's new artistic director. While we are well aware the pandemic is not over and are closely following local, state, and federal guidance, after 18 months, we are most definitely ready to have our voices heard.
DGMC kicks off the new season with Holiday Follies! Classics, Carols, and Camp in what has become a favorite December tradition. The first concert of the year to celebrate the Chorus's 40 years and its jubilant return to the stage, Holiday Follies will be a spectacular holiday repertoire showcasing DGMC's breadth and depth.
Dr. Clelyn Chapin, the newly appointed Artistic Director for the Denver Women's Chorus, takes the helm for 
Better Together. 
The Chorus's long-awaited return to live performance is a celebration of resilience and community. Premiering in January 2022, the program will showcase what we can achieve when we come together, be it music, connection, or societal change.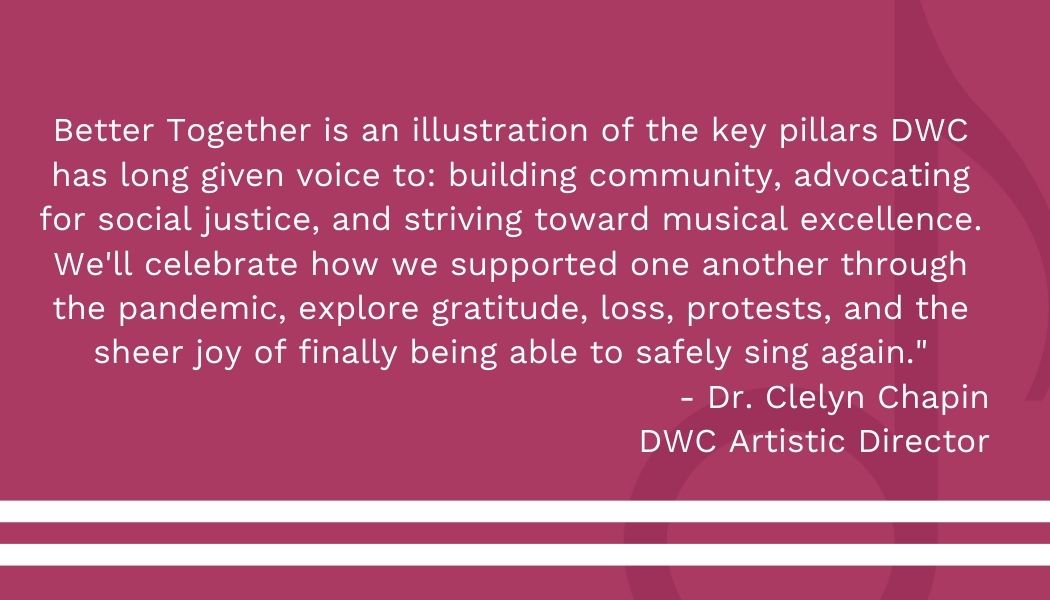 In addition, we're excited that both DWC and DGMC will perform concert series previously canceled due to COVID. DGMC takes to the stage in April 2022 for Motown and More: From the Temptations to Lizzo. The program celebrates a half-century of iconic African American pop music that has its roots in the distinctive sounds of the Motor City and now permeates every genre of popular music today.
Emphasizing love bringing us together and overcoming hate, prejudice, and political divides, in May 2022, DWC presents #LoveWins, proudly affirming the right to love, the right to marry, and the power of love to conquer hate.
Off Kilter! and Take Note!, the a cappella ensembles of DGMC and DWC, will perform in an intimate evening concert spotlighting the unique vocal talents of their singers.
DGMC's official 40th-anniversary concert and June Pride celebration, With Voices Raised: Bold and Unbreakable, will include Unbreakable, a new musical co-commissioned by DGMC and eleven other gay men's choruses, created by renowned Broadway composer Andrew Lippa. It is an epic musical chronology of the American gay experience spanning 120 years of largely unknown and unspoken history. The concert will also feature inspiring songs of pride, empowerment, and celebration from pop artists to Broadway!
Please know RMAA's Covid task force is monitoring and following local, state, and federal guidelines. We are working with individual venues and abide by protocols for each concert, and all chorus members must be vaccinated for COVID-19. Details will be forthcoming in advance of each concert.
Click over to our event pages to see the dates of all concerts. We will let you know when concert tickets are on sale! Keep safe and see you soon!