Good morning! The Denver Women's Chorus is ready for its 2022-23 season! For the first time, DWC will present three concert series, continuing in its tradition of educating about LGBTQ history and the challenges that remain as they strive for equality and full inclusion in society. We're also expanding to new venues this year adding Wellshire Presbyterian Church in Denver to the mix.  
Continue reading for all the details!
My Body, My Voice  — DWC will kick off the season in November, raising their voices in support of bodily autonomy and reproductive rights with My Body, My Voice. The concert will feature songs of protest, bravery, and resilience from Brandi Carlisle, Alicia Keys, Beyonce, and composers Andrea Ramsey and Melissa Dunphy. Safonia, conducted by former DWC artistic director Marla Wasson, will take the stage with DWC as guest artists in this dynamic performance.
November 4-5, 2022 — Central Presbyterian Church, Denver
November 6, 2022 — Broomfield Auditorium, Broomfield
__________________________________________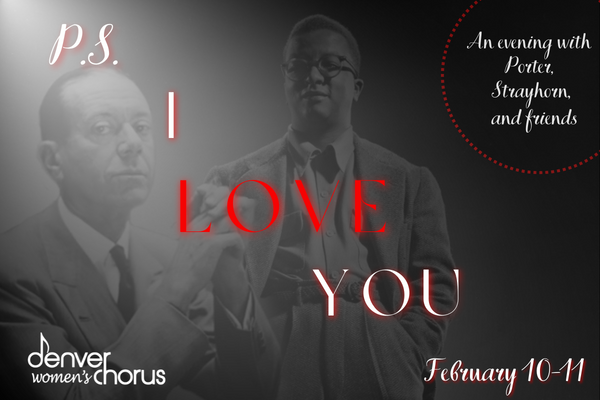 P.S. I Love You — In February 2023, DWC presents P.S. I Love You, celebrating the lives and legacy of jazz greats Cole Porter and Billy Strayhorn. The intimate concert will feature classic standards like "Let's Fall in Love," "Lush Life," and "I Get a Kick Out of You," sung by DWC and backed by Denver's top jazz players.
February 10-11, 2023 — Wellshire Presbyterian, Denver
February 12, 2023 — Broomfield Auditorium, Broomfield
__________________________________________
Earth Songs — In May, DWC will heighten awareness of climate change, leaving audiences loving the earth and ready to recycle in Earth Songs. Skip the "Big Yellow Taxi" and hop on public transportation to sing along with Joni Mitchell, Melissa Etheridge, and more.
May 13, 2023 — Boulder
May 19-20, 2023 — Wellshire Presbyterian, Denver
______________________________________
Can't wait?  Purchase tickets today HERE.
If you buy today through Friday, August 18 at Noon MT receive 20% off in-person single tickets (use code REVEAL, all caps).  Season packages for in-person concerts are also 25% off through August 18 at Noon MT.   These are the lowest prices of the season!
Concerts begin at 7:30 pm nightly unless noted; Saturday dates include a matinee featuring ASL interpreters. Additionally, Saturday evening shows from Denver will be presented via livestream.
It's going to be a great season! Onward!

Michael Sattler
Executive Director, Rocky Mountain Arts Association