I used to visit all the very gay places
Come-what-may places
Where one relaxes on the axis of the wheel of life
To get the feel of life from jazz and cocktails
– Billy Strayhorn, "Lush Life"
The Denver Women's Chorus celebrates the lives of jazz greats Cole Porter and Billy Strayhorn in P.S. I Love You. The concert will honor the legacy of the two queer musicians who rose to prominence in the golden age of jazz.
P.S. I Love You will be performed Friday, February 10, at Brighton Armory and Saturday, February 11, at Denver's Wellshire Presbyterian Church. 
The two-part concert will feature a cabaret-style first act in an intimate jazz-club atmosphere with soloists and small groups, followed by a repertoire performed by the entire Chorus, all backed by a trio of Denver's top jazz players. In addition to classic standards like "Let's Fall in Love," "Lush Life," and "I Get a Kick Out of You," audiences will get to know the stories of Porter and Staryhorn's lives and work.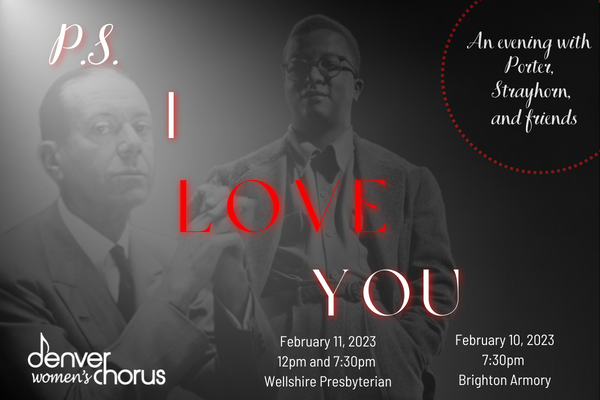 The two men, each gay, are behind some of the most memorable tunes, many covered by artists to this day.  From "Anything Goes," "I Get a Kick Out of You," to "I've Got You Under My Skin," Cole Porter cemented himself as one of the great American composers and songwriters of the era. Strayhorn, a legend of his own and known for "Take the 'A' Train,"  "It Don't Mean a Thing," and "Lush Life,"  collaborated with Duke Ellington for nearly three decades, writing nearly 40 percent of his material.
P.S. I Love You begins at 7:30 PM nightly. Saturday's 2:00 PM matinee features ASL interpreters.  An encore presentation will be available to view for 24 hours beginning Saturday, February 25, at 7:30 PM MT. In-person and live stream tickets are available now.  
For in-person tickets, click here. 
For live stream tickets, click here.
P.S We Love You —A fundraiser to support the Denver Women's Chorus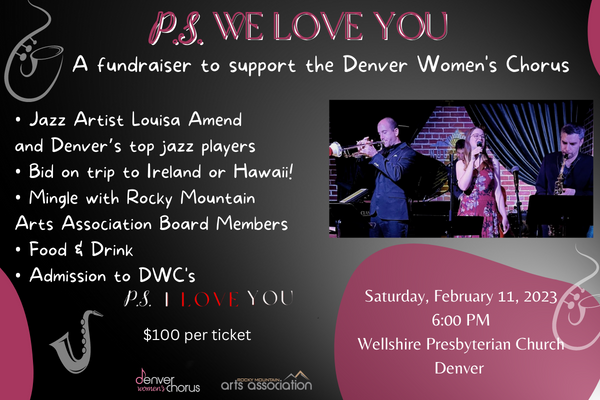 On Saturday, February 10, at 6 PM, the Rocky Mountain Arts Association Board will host P.S We Love You; a fundraiser to support the Denver Women's Chorus. During the pre-concert reception, attendees will be treated to entertainment from jazz artist Louisa Amend and food and drink. They will also have the opportunity to bid on a trip to Ireland or Hawaii and mingle with supporters of the organization.
All funds from P.S We Love You will benefit the Denver Women's Chorus. Tickets for this special engagement are $100 per person and include entry into the night's main event, P.S. I Love You. 
Click here to attend the fundraiser and concert!